Volkswagen Battery Service in Hagerstown, MD
Volkswagen owners trust us for routine battery maintenance services completed according to certified quality. Certified technicians complete battery replacement services using the recommended Volkswagen OEM batteries. Many customers choose maximum battery service convenience and speed by visiting the Volkswagen Service Xpress department. Are you interested in decreasing the cost of new battery installation with maximum customer value? If so, we welcome you to download and apply a battery replacement special. Continue reading about routine battery maintenance and contact us for service when needed at Sheehy Volkswagen of Hagerstown.
New Battery Sales
The parts department is stocked with the Volkswagen OEM batteries recommended for all models. Whether you are getting a quick battery replacement at the Volkswagen Service Xpress lane or mechanically inclined and performing a do-it-yourself battery installation, you can always trust us with the recommended Volkswagen OEM batteries backed by warranties. Contact us by phone to order a new battery or place an order online at your convenience.
Battery Replacement - When your battery cannot consistently start your vehicle, our technicians can remove it and replace it with a new manufacturer-approved battery.
Learn More
Battery Inspection - Our technicians will inspect the battery for physical damage and perform a test to make sure that it can still hold a sufficient charge.
Battery Terminal Cleaning - The battery terminals can sustain a buildup of corrosion that makes the connections looser; we can clean the terminals and tighten the cables.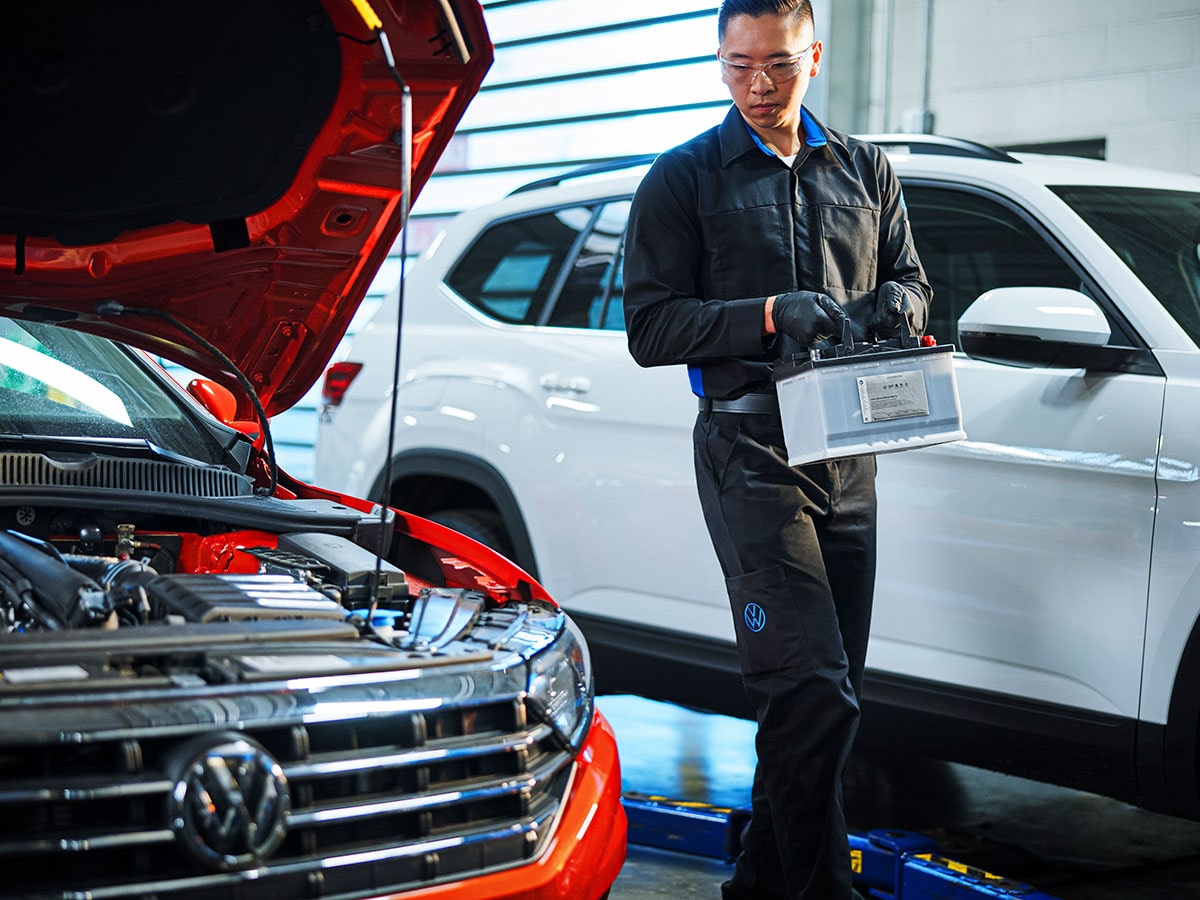 Bad Battery Indicators
Bad batteries immobilize vehicles, so be sure to get the battery inspected, tested, and replaced if you notice any of these warning signs:
Dashboard warning light
Slow engine starting/cranking, especially in cold weather
Needing to press the fuel pedal to start the engine
Engine backfires
Dimmer than usual headlights or other electrical problems
Over four years old
Get Battery Service at Sheehy Volkswagen of Hagerstown
Volkswagen drivers in Funkstown, Hagerstown, Falling Waters, Robinwood, and Waynesboro can visit us for battery services without appointments at the Volkswagen Service Xpress department. Customers who prefer battery service appointments can schedule online or by phone.