Volkswagen Wheel Alignment Services in Hagerstown
At Sheehy Volkswagen of Hagerstown, you get VW OEM parts, outstanding customer service, and a complete menu of certified automotive services. Our Hagerstown facility is close to Robinwood, Falling Waters, Funkstown, and Waynesboro. Along with OEM parts and accessories, we also carry VW gear at Sheehy Volkswagen of Hagerstown. Wheel alignment is an important service for optimum fuel efficiency and proper handling of the vehicle. This service can also help maximize the life and performance of the tires. Wheel alignment service is only required if the wheels are misaligned, so the key is to have regular inspection service to determine if alignment service is required.
Wheel Alignment Inspections
With our state-of-the-art equipment at Sheehy Volkswagen of Hagerstown, we can determine whether the suspension of your vehicle is misaligned. The equipment used for this service uses computerized technology to measure the camber, toe, and caster angles of the suspension. If these angles do not match VW factory specifications, the wheels are not properly aligned. Our technicians might also want to perform a road test of the vehicle and a physical inspection of the wheels to complete the inspection service.
Two-Wheel Alignment - Also known as a front-end alignment, two-wheel alignment is generally performed on vehicles with a solid rear axle; it involves inspecting and adjusting the camber, toe, and caster angles on the front wheels.
Learn More
Four-Wheel Alignment - Vehicles with independent or semi-independent rear suspensions will need to have the camber, toe, and caster angles inspected and adjusted on all four wheels; this is also called an all-wheel alignment.
Learn More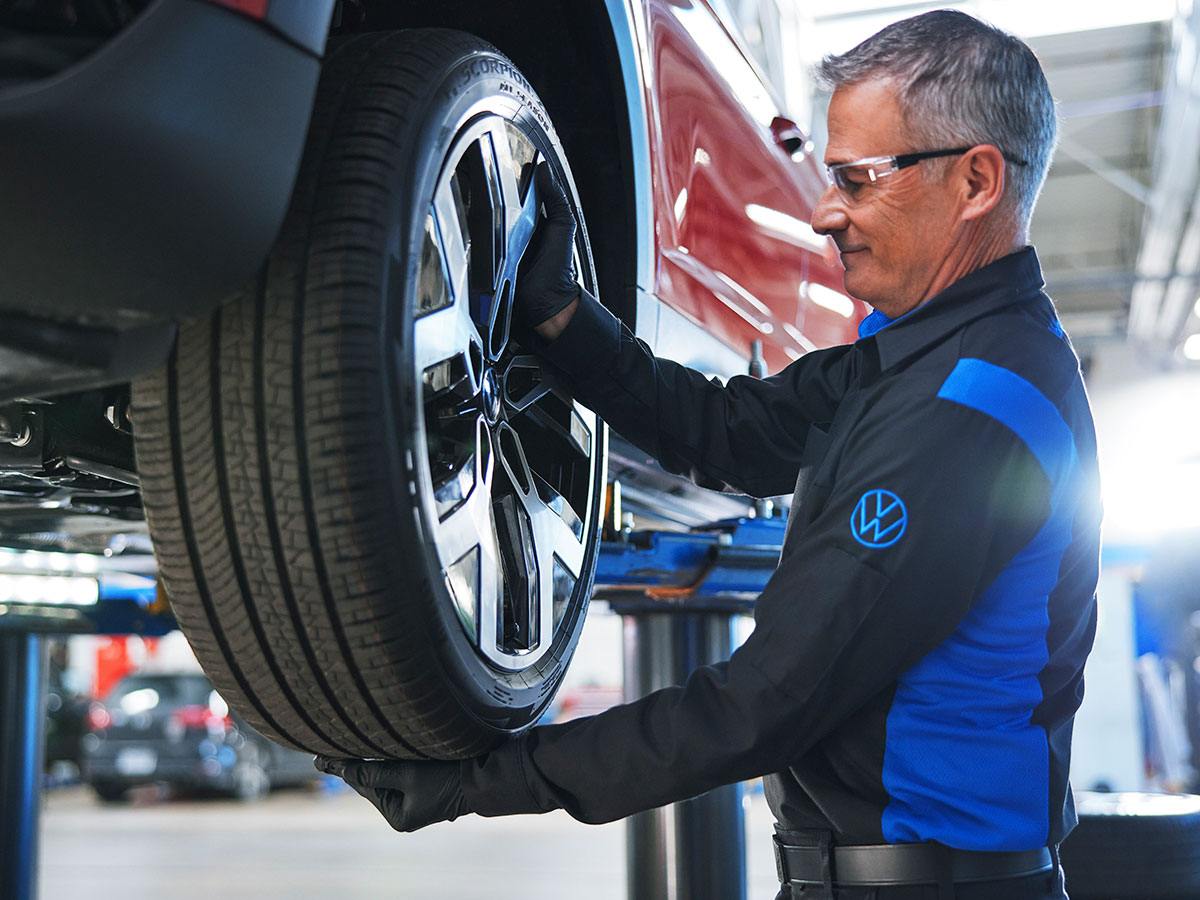 Sign of Misaligned Wheels
The most reliable method to determine wheel misalignment is through a wheel alignment inspection service by factory-trained and certified technicians at Sheehy Volkswagen of Hagerstown. However, it also helps to watch out for signs of wheel misalignment so you can bring your car to our service center as soon as possible. The most common indicators of wheels that are not properly aligned include a crooked steering wheel, pulling of the car to one side, or uneven tread wear of the tires.
Book a Volkswagen Wheel Alignment Service
To schedule a Volkswagen wheel alignment service with us at Sheehy Volkswagen of Hagerstown, you can contact us via phone or website. We have an online appointment scheduling tool on our website. At our state-of-the-art facility, we offer several amenities for the comfort and convenience of our customers.